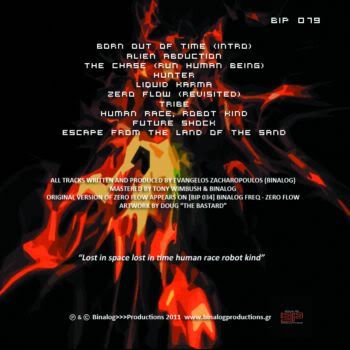 Artist:
Binalog Freq
Title:
Born Out Of Time
Format:
Digital download
Release Date:
Friday, August 5
Teaser:
http://soundcloud.com/binalog/binalog-freq-born-out-of-time
Binalog Freq's 3rd album is the epitome of modern electrofunk. An unmistakable blend of the characteristic elements of the oldschool (such as strong 808 beats, robotic grooves, space themes, vocoded rhymes and, of course, fat basslines) with the techy instrumentation, breaks, effects and (more or less) unpredictable samples of the nuskool scene.
This is 2011 Electro at its finest, LONG LIVE THE ELECTRO SOUND!
All tracks written and produced by Evangelos Zacharopoulos (Binalog)
Mastered by Tony Wimbush & Binalog
Original version of Zero Flow appears on [BiP 034] Binalog Freq - Zero Flow EP
junodownload.com/products/zero-flow/1498571-02/
Artwork by Doug "The Bastard"
Get it on Bandcamp:
[bcp]308018687[/bcp]
or on Junodownload:
[juno]1801855-02[/juno]
More digital stores to follow