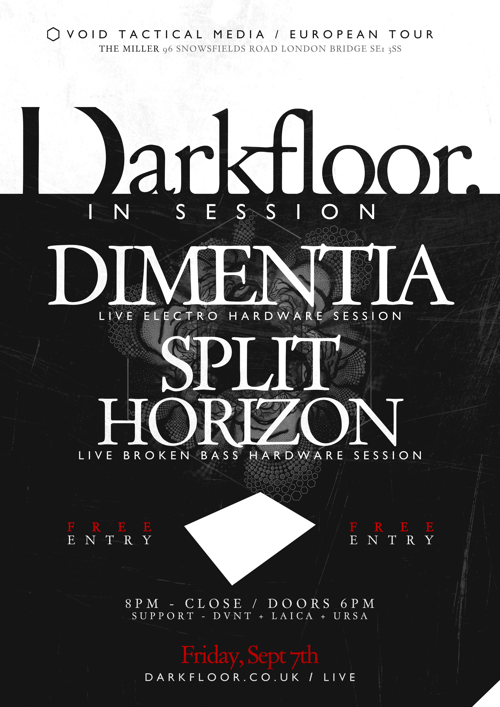 On September 7th
Darkfloor Live
is very proud to present as part of the Void Tactical Media European tour Dimentia and Split Horizon.
Both hail from Oakland, California and this is a very rare chance to see them perform in London.
Both will be performing their unique brands of raw, uncompromising electro on proper hardware gear.
Dimentia, fresh from his recent showcase session on
Mantis Radio
back in June has an often beautiful blend of synth work built into the serious bass and heavy electro ready to unleash.
Split Horizon
, label boss of Void Tactical Media, joins
Dimentia
and brings to the table a darker and harder ride of distorted broken bass that thunders into your head.
We look forward to you joining us for another loud and intimate Darkfloor Live event.
Void Tactical Media: European Tour 2012
Resident Advisor event
Facebook event
+
Our debut CD/EP release on our freshly launched Darkfloor Sound label is now available. Five tracks of deep/bass electro from Phat Chex.
Preview, buy or download
direct from us
.