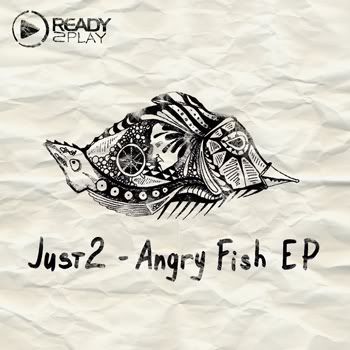 Label: READY2PLAY RECORDS
Title: ANGRY FISH EP
Artist: JUST2
Genre: TECH HOUSE
Cat. Number: R2P006
Format: Digital
Release Date: 7 November 2011
LISTEN and BUY EXCLUSIVE @ BEATPORT
///// Release Info
New release of the label "Ready2play". Amazing EP from Romanian project - JUST2 (Southpark Records,Potobolo Records).
This project formed by two young DJs/Producers, aged 17 and 18. After almost a year of being on their own,
period of time which brought them valuable experience, they formed this project, after realising they share the same sound.
Thing are pretty much in fast-forward, in only 3 months from the beggining of this colaboration the two managed to sign with a series of labels,
such as Wired(Enzo Siffredi) , Microtech Records(Ciprian Iordache and NSC) and Southpark Records (Kenny Ground). The two are invited to some events in Bucharest but also in other cities throughout the country. They managed to be a part of a booking agency called Tech Factory Events,
with whom they hope to leave an impression everywhere they play. 2011 brings the two a tight schedule, but they should be followed throughout the year, as they will acomplish great things.
///// TrackList
1. JUST2 - Angry Fish (Original Mix)
2. JUST2 - Bang The Gang (Original Mix)
3. JUST2 - Hello Darling (Original Mix)
///// Support and Feedback
Kid Shakers - Thanks !! Nice pack, Angry Fish and Bang The Gang for us!
Dash Berli n (Armada / Aropa) - Great grooves, keep it for the private collection.
Frank Frenzy (100.7 FM TorontoGlobalRadio) - Loving this bangin' E.P.! All 3 tracks are great and supporting!
Sonic Union (Lowbit, Replug, Anjunadeep) -Сool groovy sounds.
dPen (Hope Recs, STM) - Nice techies!!
Bin Fackeen - Сool ep!
Darko De Jan (CR2/Hotfingers/303Lovers/Nervous/Soda...) - Very good groove and all 3. Support!
Johan Nilsson (DI Radio) - Cool tech house release. All 3 tracks are nice here
Smootrab - "Hello Darling" will be supported this saturday on the Rotationz Show on Belgian FM Radio TOPRADIO!
Cristian Poow (Dbeatzion Records) - Good stuff!
Matan Caspi (Spinnin', Pacha, Harem, UDR) - Great techy vibes. will support in my radio show.
Catastrophic (Tunnel FM) - "Hello Darling" is my pick here! Nice one guys!
Pena (Flow) - "Bang The Gang" and "Angry Fish" Have some cool grooves, dope.
Ryan Sullivan (Gut Feel Rec, Triplefire Music, Baroque, Mistique) - High energy, large and groovy house music! Very good release. Will play out for sure.
Mark Junior (Joia Records, 925 Digital, Hyline music, Neuroscience rec, Armad) - Nice tunes!
David Javate (Killswitch San Francisco) - Solid tech house on the lines of Martinez & Mihai Popviciu...good stuff!
Monojoke (Particles / Apollo / Fade / Olaris / Silk / Spring Tube / DSUK) - Like it much, thanks.
Stefan DJordjevic (iface agency, UCM ) - Nice tech, thanks!
Felipe Nadeau (DNW Records) - Excellent proposal, it follows a clear line with the Chicago House elements on vogue today. Angry Fish presents itself as a good intro, nice one to mix as too. Bang the gang goes up thinking i! n the dancefloor and Hello Darling definetly is the one more destined to move the bodies there. Congratulations to the label and the artist for this nice release.
+ and more world DJ
LISTEN and BUY EXCLUSIVE @ BEATPORT
///// Links
///// Promoted by
Majestic Family Group / Redy2Play Records