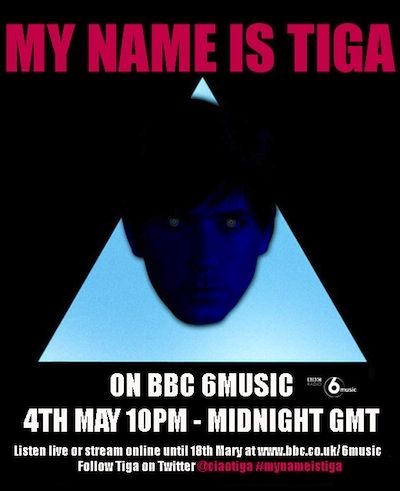 The inimitable Tiga makes his return to BBC 6Music this Friday for another dose of the weird and wonderful My Name Is Tiga show. The bi-monthly show will be airing in its new time slot of 10pm to midnight for the first time, setting you up perfectly for the weekend ahead.
Over the course of two hours, the Montreal-based producer, DJ, label head and tastemaker will once again usher you in to his musical universe as he explores new realms of his metaphorical record bag. This time round he will be presenting a remix special featuring the '25 different types of remix' as defined by him – and knowing Tiga you can be sure this will provide a new way to look at the art form. Continuing this theme, he will be inviting some of the remixers he admires in to the studio for a chat including Proxy and Duke Dumont amongst others. You can also expect plenty of exclusives such as his remix of Footprintz' latest single on Visionquest, Motor City Drum Ensemble's re-envisioning of Midland and a remix of his own 'Pleasure From The Bass' by Subb-an on Crosstown Rebels.
You will be able to listen to the show HERE and you can download the previous show HERE.
http://soundcloud.com/mynameistiga
<br>http://www.twitter.com/ciaotiga
http://www.facebook.com/officialtiga